Thank you for visiting Hawaii Doggie Bakery!
Due to COVID-19 we are adapting to keep everyone as safe as possible. To prevent lines and crowds, please Pre-Order as many items as possible through this website. Quick additional purchases at the time of pick-up are allowed.

Store Hours
Wednesday & Friday through Sunday
10am - 3pm
---
Pre-orders through this website help us ensure availability for your orders and the fastest check-out times.

Walk-in customers are accepted for limited items, but can create lines and longer wait-times. Customers with Pre-Orders are given priority for the fastest and safest check-out experience. Mahalo!
---
Pre-Order Items for Pickup
Place your order today and choose the date you would like to pickup on the calendar during the ordering process. Pick-ups are at our Manoa Store location.

Some items require a few days or more for us to prepare, so please order early!
Click on the images to see the products or the product category or click the "All Products" image to see all of our products
Celebrate Mid-Autumn Festival!
Cream Cheese Cakes & Cupcakes
These items must be refrigerated within 2 hours of pickup and look the best on the pickup day. After the first day in the refrigerator, they can start to crack and change color as they dry out naturally.
Giant Cupcakes
can be ordered for same-day pickup.
Cakes
must be ordered at least 2 days in advance
Yogurt-based Cakes
Our Yogurt-based Birthday Drip Cakes take a bit longer to personalize, but last much longer visually compared to our Cream Cheese items. Drip Cakes can be refrigerated for a week or frozen for a month and still look great!
Non-Personalized
Drip Cakes
are available for same-day orders and come with a Bone-Shaped card to write your dog's name!
Personalized Drip Cakes
must be ordered at least 4 days in advance.
Biscuits & More
Our biscuits and other items last 2 - 3 months or more without refrigeration. Other specialty items need to be refrigerated. Many are available to order for Same-Day Pickup while supplies last.
Apparel, Decorations & Toys
Add Candles, Hats, Balloons and more to spruce up your paw-ty!

You can also get your pup something to squeak! Non-Birthday themed toys are available too.
Shippable Birthday Items
These items can be shipped via USPS. Be sure to look at our other Shippable Items category as well!
Certain items can be shipped locally and to the mainland. Even though we are open for Pick Ups, we do encourage shipping orders as a better alternative to adhere to Hawaii's Stay Home Mandate.

For orders $50 and up, shipping is FREE! No coupon code needed, discount will be applied at check out.

Click the image to see our Shippable Items -->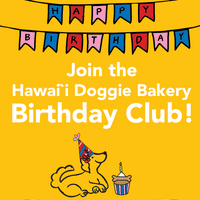 Join our Birthday Club!
Receive a birthday e-card and a coupon for a FREE bag of biscuits on your dog's birthday!
Limit 1 dog per e-mail, open to Oahu dogs only
Click here to join!
Hawaii Doggie Bakery
2961C East Manoa Rd
Honolulu, HI 96822
At the corner of East Manoa Road and Lowrey Avenue
808-783-7390
Text messages preferred!
Store Hours:
Wednesday &
Friday through Sunday
10am - 3pm
We will be closed Friday September 15 through Sunday September 17
Pre-orders through this website preferred to keep lines short
Follow our Social Media for updates thank you!